Independent Drawing Gig 4, Amsterdam, 2008
Independent Drawing Gig (IDG) is an international project initiated by Linas Jablosnkis in Vilnius in 2005. It is a hybrid of a live concert and an exhibition of drawings. It places a particular emphasis on the collision of the independent music scene and the world of independent artistic practices where drawing plays a particularly important role. IDG is about experience and energy, independent spirit and critical value.
The previous 3 editions of IDG have taken place in Vilnius (2005), Skopje (2006), and The Hague (2007). The fourth edition in 2008 is meant to be staged in multiple cities in private spaces (studios, apartments, or garages) of friends that so far have been affiliated with the project that are ready to organize and curate a small event. For IDG4 there is a possibility to make this also a first version of the event for the Internet as well, which means that all the events will be streamed live on the IDG web site.
The project will also be featured in the upcoming issue of D (d is for drawing) in the spring 2009, edited and published by Yane Calovski and co-published by Gijs Stork at Veenman Publishers / Gijs Stork, Rotterdam, with internationally distribution via D.A.P. Books in NYC, Idea Books in Amsterdam, Vice Versa Books in Berlin and Art Data in London.
The IDG4 in Amsterdam was organised by Jeroen Cremers & Erik-Jan Ligtvoet.
With: Yane Calovski (MK), Babette Wagenvoort, Stephan van den Burg, Maries van Osch, Linas Jablosnkis (LT), Jeroen Cremers, Ray Bartkus (US), Paul Faassen, Silvia Russel, Erik-Jan Ligtvoet, Stefanie Scholte, Simone van Dijken, Gam Bodenhausen, Ray Moon
There were music performances by The Travelin' Tunes, The Skills and Chomain Vasser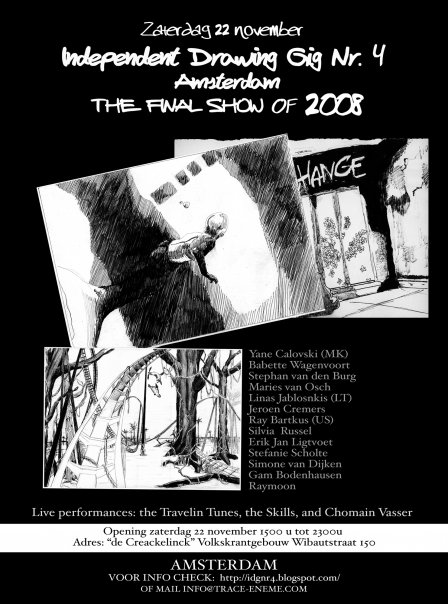 My animation WBJNSB No.58 - Child Soldiers in the background: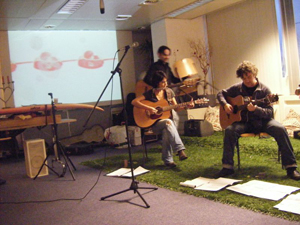 A few drawings from the series 'Waar ben je nou stom beest?' on interesting wallpaper: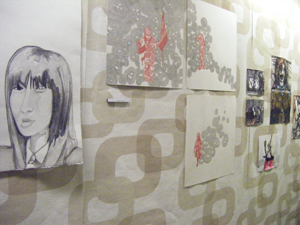 and also a block of smaller drawings from the same series (middle of the picture):